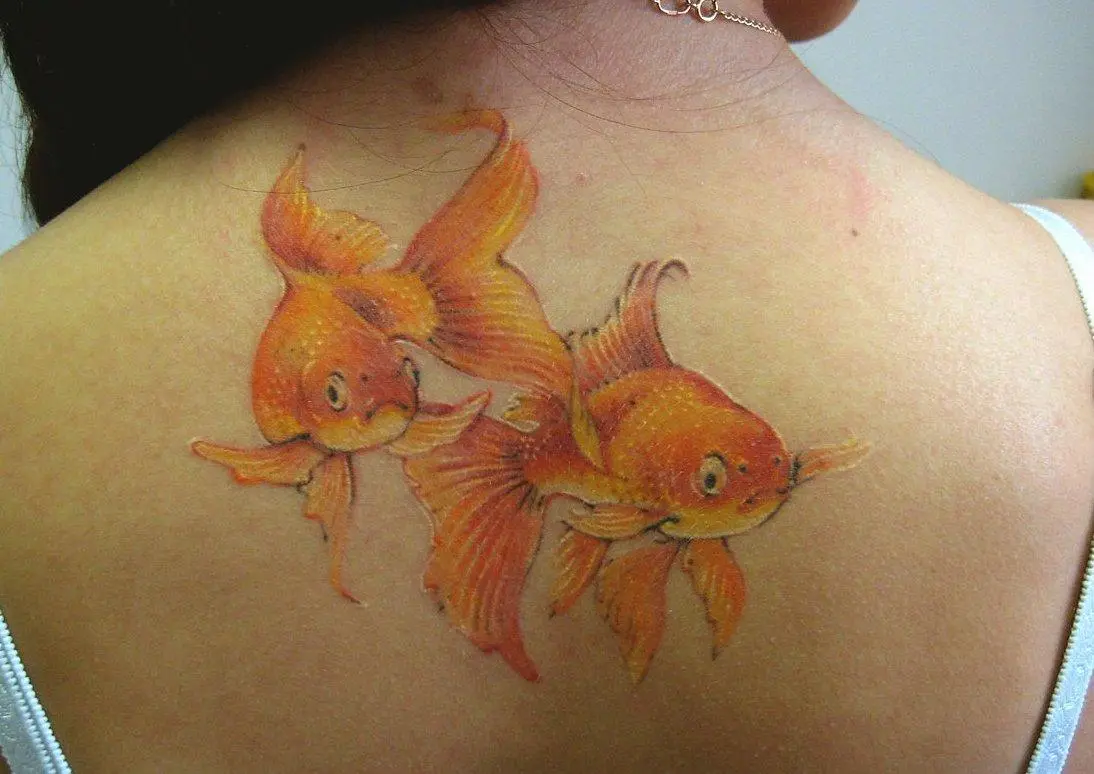 Today, goldfish tattoos are so popular among our compatriots that they do not even think that such a drawing came to us from Eastern culture.
Many Russians are still convinced that the prototype of such a beautiful picture is a character from the tale of Alexander Pushkin. And they apply such a tattoo for the sole purpose of making the fish helped to fulfill all their whims and desires.
In fact, the meaning of the goldfish tattoo is not so unambiguous, because in the eastern culture, the fish was deified, considering it a totem animal.
For example, in China there is a legend that tells of how a divine being appeared to the world from the depths of the ocean. Another legend says that the fish is the prototype of the bitter tears of beautiful virgins that came to life.
Whatever it was, but the meaning of the goldfish tattoo still has oriental roots, because the Chinese Song dynasty even in ancient times introduced the tradition of presenting Buddhist temples with these beautiful creatures.
Each Buddhist temple had a pool filled with crystal clear water, where goldfish were sent.
The meaning of the goldfish tattoo
The general worship of fish is observed in the countries of the East even today, because it is not for nothing that they symbolize prosperity, wealth, purity, longevity and are a kind of amulet against failure and misfortune.
Another important value is attributed to fish by Eastern culture - the unity of the fire and water elements means the unity and attraction of opposites. This feature among people allows you to create reliable strong families, where the hearts of two people of opposite characters are united together in a reliable lasting union for long years.
The goldfish tattoo is so beautiful that it is difficult to guess whether such a picture can evoke negative and negative emotions. Most likely not, if such a drawing is done by a professional experienced craftsman.
Goldfish of all peoples are depicted in bright, juicy shades, with large veil-like fluttering tails and fins - a photo of a goldfish tattoo is confirmation of this. And this is no accident - this way their gracefulness, femininity and uniqueness are emphasized. It becomes clear that such a pattern is relevant among women of different ages and professions.
Photo of goldfish tattoo on body
Photo of goldfish tattoo on hand
Photo of goldfish tattoo on leg