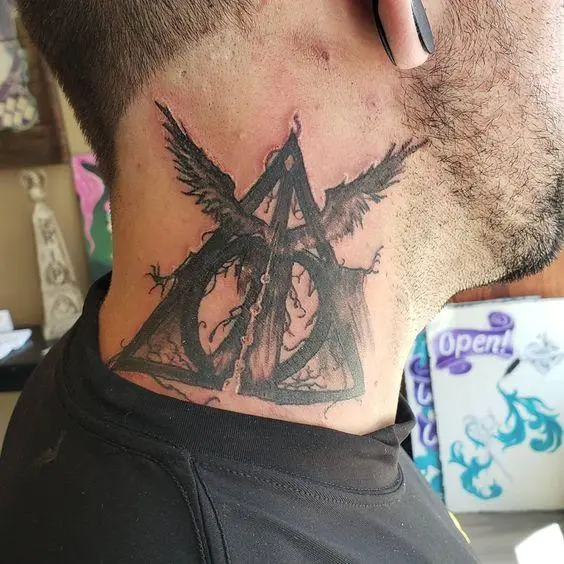 This sign appeared from a series of books about Harry Potter, namely from the last 7 books. The story from the book says that once upon a time three magical objects, endowed with extraordinary powers, were born. They were presented, by death itself, to three brothers for their resourcefulness. Elder - an elderberry stick to defeat his opponent. The middle one is a stone of resurrection, for the return to life of the beloved. The youngest is wearing an invisibility cloak.
But death punished the first two brothers for their selfish desires. The eldest was killed by a robber, and the middle one passed away on his own when he could not resurrect the girl.
The meaning of the Deathly Hallows tattoo
Such a tattoo takes on the meaning of three objects: a vertical line is a stick, a circle is a stone of resurrection, a triangle is a matter that even hides from death.
The wand can be imagined as an exorbitant force, for which you will later have to pay. They can defeat any rival, but the power gained will attract the attention of enemies who want to take it by force or cunning. In life, this can be compared to when a person, having achieved a lot in life, becomes an object for attack by critics and ill-wishers.
The resurrection stone can be designated as the ability to recover from the blows of fate received and from the experience. But just as in a fairy tale, instead of a person, only a ghost was resurrected, so in life after the experience, a person is left with a ghost of memories and mental wounds that arise instead of the previous, normal state.
The invisibility cloak turned out to be the smartest and most successful choice. He helped his owner avoid the sad fate of his brothers. Therefore, it can be compared to a reasonable way of thinking, secrecy, luck.
Deathly Hallows tattoos for men and women
This tattoo is popular mainly among fans of the Harry Potter series. It will work well for both guys and girls.
Deathly Hallows tattoo options
This image is combined with another representative of the fabulous universe - Phoenix. It is applied as the background of the main picture, and it carries the meaning of eternal life and rebirth. Sometimes they add a drawing of an owl to the Deathly Hallows, which brings adventures and interesting stories to life.
Deathly Hallows tattoo places
Such a tattoo does not have large dimensions, therefore it is well located on any part of the body:
back;
neck;
arms;
chest;
legs.
Photo of the Deathly Hallows tattoo on the head
Photo of the Deathly Hallows tattoo on the body
Photo of the Deathly Hallows tattoo on hands
Photos of the Deathly Hallows tattoo on legs