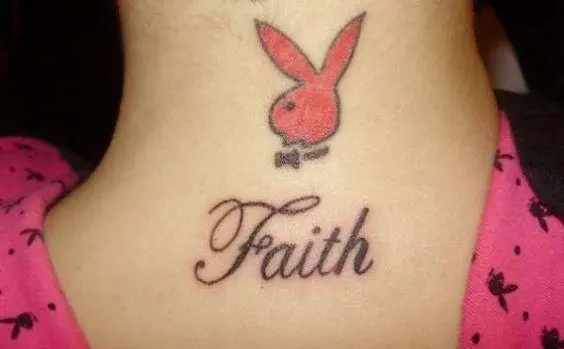 The image of a playful and relaxed rabbit came to us from the American Playboy magazine, the target audience of which is self-confident men. For their vitality and curiosity, you need to know all the latest world news and be in the center of their events.
The magazine has erotic overtones, but this does not prevent it from observing political and social events. It is characterized not only by the erotic genre, due to the girls published on its cover, but also by the intellectual and educational genre, since it publishes articles about music, cars, culture, the latest technologies, fashion, and popular interviews are no exception.
The meaning of a playboy tattoo
The playboy bunny is the embodiment of sexuality and intelligence. He is characterized by impudence, willfulness, he has an indomitable and passionate character, the rabbit behaves playfully and passionately, and at the same time is interested in new technologies, follows the stock exchange and loves to develop. The rabbit tattoo embodies both seething energy and a cold mind.
Who chooses a playboy tattoo
People who want to show their versatile nature, a daring, self-willed character, not afraid to grow and develop, but also not averse to being playful and surrendering to feelings. Such people are distinguished by their independence and security. Often they are born leaders, they like to stand above, not below someone. In general, the rabbit becomes the choice of those who agree and agree with the philosophy of Playboy.
Playboy tattoo designs
The playboy rabbit is characterized by its butterfly, without which the image loses its meaning. You can add a background or its costume to clarify its meaning somewhat. The rabbit can be applied both in black and white and in color.
Playboy tattoo locations
The bunny is not a big tattoo, but he loves open spaces:
neck;
wrist;
forearm;
back;
shoulders;
chest;
legs.
Photo of playboy tattoo on head
Photo of playboy tattoo on body
Photo of playboy tattoo on hands
Photo of playboy tattoo on legs