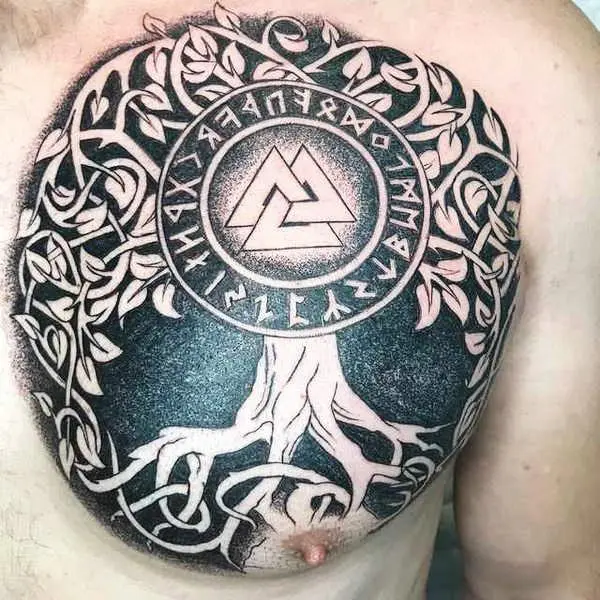 The industry of body art has grown to a large scale, now it is difficult to choose the right tattoo from this mass. A lot of styles: from minimalism to elaborate, photographic portraits; various sizes: from a small inscription on the phalanx of the finger, to a tattoo on the entire back; many options for filling: black and white, classic or fully colored.
To make it easier to pick up and determine if you need a tattoo of three triangles, read the material below.
The meaning of the three triangles tattoo
The triangle is a combination of the three dominant substances in the world, in some religions it is a triad, in others it is a holy trinity. Often three subjects are interpreted as:
Therefore, such a combination means the spiritual balance and poise of the wearer. Deeper symbolism means cyclicality and continuous movement. A person who has such a tattoo understands the fleetingness of his life, that its course, order and law cannot be overcome. As a clock wound once, they run their course until they finish their journey.
The meaning of the three triangles tattoo for men
For the stronger sex, isosceles triangles are depicted with their vertices upward and signify the masculine and divine principle.
Triangle - family roles: head, neck, future generations.
The triangle is the course of life: birth, life, the end of the path.
Triangle - three quality parameters for men: intelligence, beauty, strength.
The meaning of the three triangles tattoo for women
For girls, triangles are applied with the tip up and have the meaning of fertility, wisdom and female nature.
A triangle of three is the life path of a living being: childhood, youth, old age.
A triangle of three - three constituting a family: mother, father, child.
The triangle of three is a balance between beauty inside and outside, as well as with willpower.
Three triangle tattoo options
If the image of the eye is added to the triangle, then it acquires the symbolism of free thought, equality, independence. By adding a circle to the inside of the triangle, the meaning of higher intelligence is created.
Places of tattooing three triangles
Three triangles tattoo is a small and compact image, so it is better to apply it on an open, small area:
wrist;
shoulder;
neck;
forearm.
Photo of a tattoo of three triangles on the head
Photo of a tattoo of three triangles on the body
Photo of three triangles tattoo on hands
Photo of a tattoo of three triangles on the legs