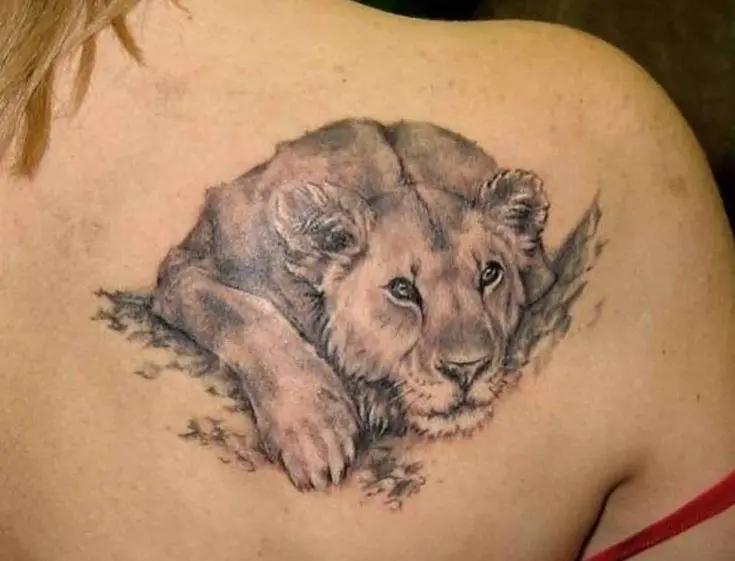 In this article, we will consider the meaning of a lioness tattoo.
Who most often gets lioness tattoos?
Most often, girls or women fill a tattoo with a lioness, since this animal itself is proud, impetuous. The lioness never gives up, is always ready to protect her children, she is majestic like a queen.
Men or boys most often stuff lions. Leo is a very strong animal, it is not for nothing that it is called the king of beasts, and it seems to me that men feel stronger and more courageous with this tattoo.
What does a lioness tattoo mean for a man?
For a man, a lioness tattoo means that he has a wife, in this family there is always a balance, they have similar interests and equality. Other meanings of tattoos for men:
Respect for your own wife.
The ability to stand up for your lady.
Pride.
Courage.
Wisdom.
Most of all, a lion tattoo suits a man, a lion means courage, masculine strength, wisdom, if a roaring lion, then this is aggression that makes him stronger.
Men most often choose black and white shades.
What does a lioness tattoo mean for a woman?
Women choose this drawing because it denotes motherhood, pride, and a predator. That is, exactly those character traits that are inherent in a lioness. It is known that in the pride it is the female who brings food and brings up the young.
Therefore, a woman with a lioness tattoo seems to show that she can always stand up for herself, there is so much strength in her, as well as affection and love.
The meaning of such an image on a female body is as follows:
the ability to protect yourself;
majesty;
femininity;
love for children;
motherhood;
confidence;
independence.
A tattoo can indicate femininity, because behind every strong lioness, there is a fragile girl who wants protection, love, self-respect and support.
Which option should you choose?
There are a lot of options for lionesses and lions, from black and white tattoos to brightly colorful ones. Some people prefer a simple tattoo that clearly depicts a lioness or lion.
Others choose a brighter tattoo, most likely such a tattoo can be chosen by a bright personality or artist.
There may also be a variant of a lioness with a crown on her head, which means majesty. But most often, women choose a lioness with patterns, since a tattoo denotes tenderness and love.
What part of the body should be "stuffed"?
You can get a lioness tattoo anywhere. Most often, girls fill in large sizes and, less often, small ones fill a lioness in places such as:
Before you go to the master, think carefully whether the conceived drawing corresponds to your style, character and lifestyle.
Photo of lioness tattoo on body
Photo of lioness tattoo on hands
Photo of lioness tattoo on legs