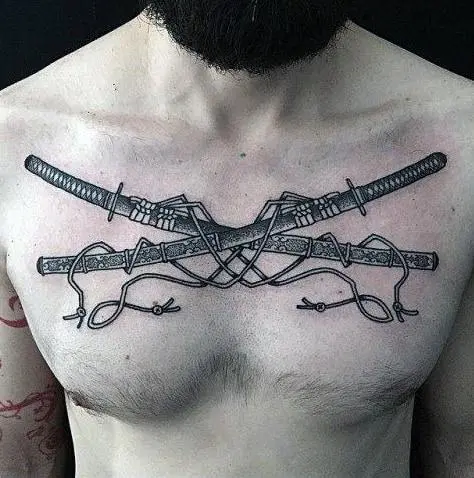 Consider the meaning of the Katana tattoo. What does it mean on a male or female body?
Who gets the Katana tattoo?
This drawing came to us from Japan. The katana is an image of a samurai sword. He reveals in himself strength, will, striving for goals, fearlessness, courage, honor and dignity. This is a very popular tattoo among both men and women.
What does a Katana tattoo mean for a man?
For a man, a tattoo with a katana pattern means strength, courage, the desire to win. On a man's body, such a pattern can mean:
self-confidence;
courage;
striving for a goal;
fearlessness;
obsession;
honour and dignity.
A tattoo depicting a samurai sword emphasizes all the best features of a young man.
What does a Katana tattoo mean for a woman?
Despite the fact that the sword is not a toy for girls, the katana tattoo is not only popular among women, but also looks great on a sophisticated body.
On a woman's body, this tattoo can mean:
female independence;
strong character, courage;
striving to be the first;
the ability to protect yourself.
If a katana sword is depicted with a sakura twig, or other more delicate elements, this indicates a double character: on the one hand, strength, courage, and on the other, tenderness, beauty.
Which option to choose?
The choice of a tattoo and the style in which it will be performed is a very important matter, especially when there are a lot of options.
The style can be realistic or trash polka. The last version of the style conveys not only the drawing, but also the atmosphere of the land of the rising sun and samurai. It is great for both strong girls and courageous men. Black and red style and watercolor will give the drawing dynamics and uniqueness.
Girls can add a little lightness to the katana, for example, various vegetation: flowers, sakura.
What part of the body should be "stuffed"?
A tattoo depicting a katana for men looks good on the lower arm, but it is also often hit:
on the chest;
on the back;
on the shoulder;
on his feet.
Girls usually hit on the inside of the arm from the elbow to the wrist. In a minimalist style, this tattoo is almost never performed.
Photo of a tattooed katana on the body
Photo of a katana tattoo on his shoulder
Photo of katana tattoo on legs