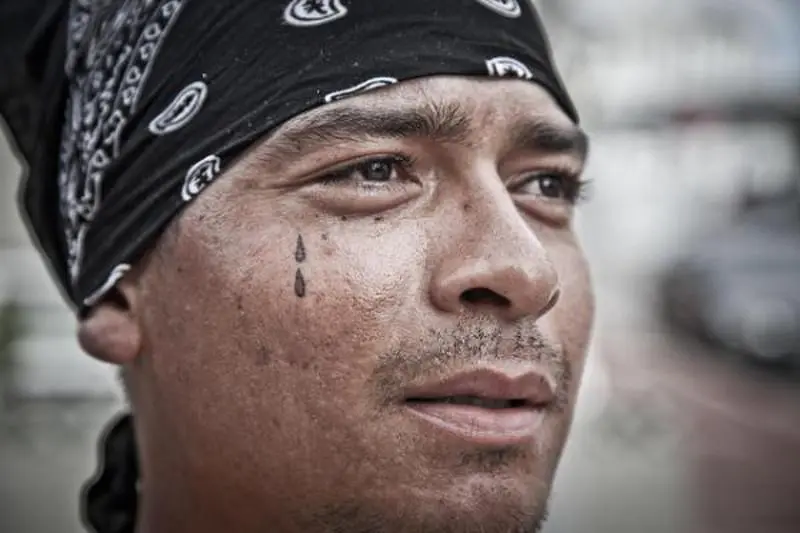 A tattoo in the form of a small tear under the eye is not as harmless as it seems at first. The tear is placed on the left or right side. It seems that the person is constantly crying. The image symbolizes experience of past years... Most often, such a tattoo is associated with prison life.
The birthplace of tattoo is South America. It was originally thought that a teardrop under the eye tattoo was tattooed on the skin by the person who committed the murder, and the more the tattoo, the more people became victims. In some places, the murder is believed to have been committed in prison. Many used a tear as a warning to others that a person is able to stand up for himself, and at any cost.
The second meaning of the tear tattoo is that while the prisoner was behind bars, one of his relatives or friends died, and with the help of the tattoo, grief and the inability to say goodbye to the deceased are transmitted. This means that you cannot cry in prison and all emotions are expressed with the help of a tattoo.
In Australia, a teardrop under the eye tattoo has a completely different meaning. It is considered a sign that a person has been arrested for child molestation. Such a tattoo is forcibly applied to a prisoner. As a result, it becomes clear to others under what article the person was convicted and the result is cruel treatment of the owner of the tattoo, constant bodily harm. The tattoo symbolizes the tears of a criminal. And even after the release of freedom, the attitude towards such people does not change.
The meaning of a tear under the eye tattoo
There are a lot of meanings of a tear under the eye tattoo in the world. Moving away from prison symbols, such a tattoo symbolizes bitterness. loss of a loved one, in memory of which a tear is applied. This is a demonstration that the owner of the tattoo will mourn the deceased until he himself leaves for another world. Many stars apply tattoos to demonstrate their experiences and losses to others.
Representatives of many modern subcultures are also showing interest in this subject. A teardrop tattoo under the eye means sentimentality, touching, pain of loss.
A teardrop is usually drawn simply, in black. Only the contour can be painted. Whatever the meaning of a teardrop tattoo in each specific case, the meaning boils down to the fact that a person has performed some action, which he now deeply regrets, but it is not possible to return time back.
Photo of a tear under the eye tattoo