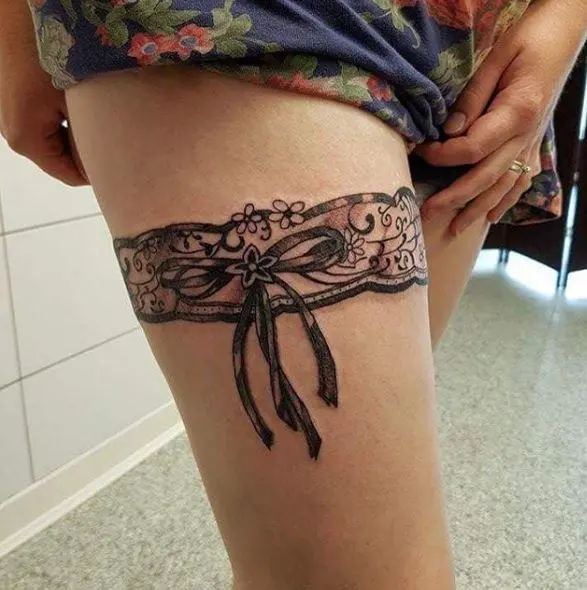 Garter tattoo - the choice of passionate natures
A garter tattoo is chosen by bold and confident girls who want to emphasize their femininity and sexuality. This image does not carry any hidden philosophy, unlike many other tattoo options, but it has a strong emotional overtones.
The meaning of a garter tattoo
The garter itself is a symbol of a woman's seductiveness, as well as her mystery (after all, this accessory is always hidden by clothes, and only a loved one can see it). This gives the picture, like its owner, additional attractiveness in the eyes of any man.
It is worth noting that the garter really does not leave the representatives of the stronger sex indifferent: very often this particular accessory is mentioned in classical literature in order to emphasize the femininity of the heroine. Many famous directors also focus on the audience's attention on garters.
Often there are works that include an additional piquant element in the form of a knife or revolver. Such masculine symbols do not detract from the femininity of such a garter tattoo on the leg, on the contrary, add a touch of passion and danger.
The technique for making a sketch of a garter tattoo can be different:
classic garter image;
tattoo in the form of an ethnic ornament;
stylized barbed wire garter;
garter in the form of an inscription (often in Latin).
In addition, the leg garter tattoo can be supplemented with various bows, flowers, hearts and even skulls (this option is suitable for the most daring and uninhibited women who like to shock their partners).
If you decide to stuff your garter, then before the session, remove the hairs from the surface of the thigh so that they do not interfere with the master from applying the pattern to the skin. Waxing works best here.
Photo of a garter tattoo on the leg