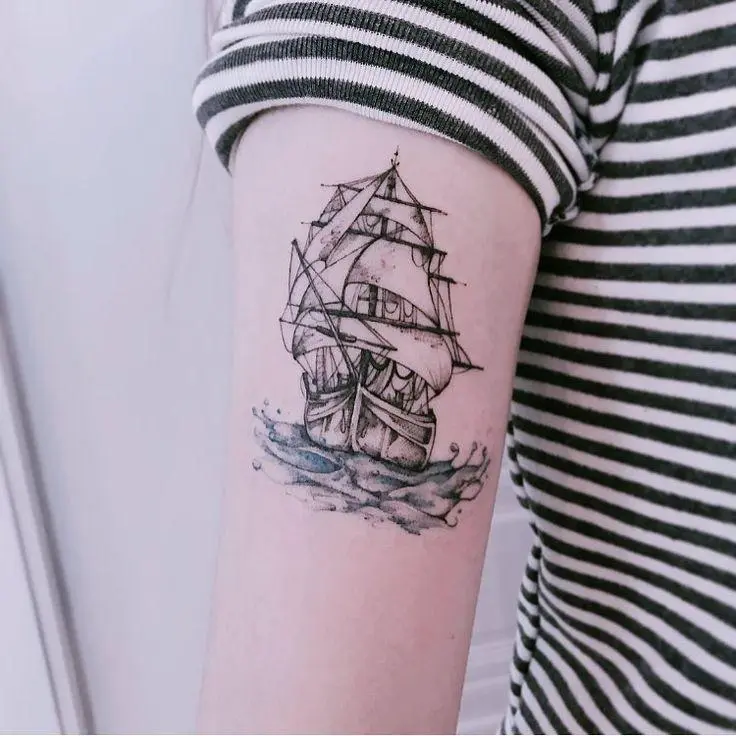 The image of the ship or its individual parts originally adorned the bodies of sailors. This is the symbol danger and adventurism, a distinctive sign of belonging to one of the most ancient professions, to a real brotherhood of harsh men.
Since it was believed that a woman on board was a misfortune, sailboats adorn the bodies exclusively of men.
For a long time, sailors reflected on their bodies all the milestones of travel. For a long time, the sailboat adorned the bodies of only those sailors who circled Cape Horn... This section of the sea route is considered the most dangerous because strong winds blow in the narrow strait and waves are constantly raging.
Many were proud of the passage of this section, since the death toll is in the thousands. The sailors' tattoos had another meaning. In the event of the death of a sailor, the tattoo could identify his membership in the brotherhood and bury him in accordance with traditions.
Now the images of ships are reflected not only on the bodies of sailors.
The meaning of a sailboat tattoo depends on what type of vessel is depicted.
The main types of ships and their symbolism
A sailboat with scarlet sails symbolizes expectation and faith in a bright future. The likelihood that after tattooing a person will radically change his life is high.
A yacht with inflated sails symbolizes the well-being of the life path, helps in the aspirations of a person to change life for the better.
Beautiful raised sails testify to the dreaminess of the owner of the tattoo and his inconstancy.
Power is demonstrated by a ship with a raster.
The pirate ship symbolizes a penchant for adventures and a lack of commitment to anyone.
A sailboat tattoo will be a harmonious addition to the image of a person who is prone to constantly changing places. The ship symbolizes the pursuit of excellence.
Such tattoos are also present in prison symbols. For prisoners, a sailboat means the hope of a speedy release, or, in extreme cases, an escape. Women in prison can make a tattoo of a girl wrapped in chains on the shore, who looks at the trail of a sailing ship. This means one thing - farewell to freedom.
Sailboat tattoo places
The sailboat can be applied to any part of the body, but the image looks better on the upper part of the body. It can be monochrome or color. Since this is predominantly a male tattoo, the drawing is large enough and differs in an abundance of elements. You can find a wide variety of sailboat tattoo designs, some of which can be seen in our selection at the end of the article.
Photo of sailboat tattoo on body
Photo of sailboat tattoo on hand
Photo of sailboat tattoo on leg