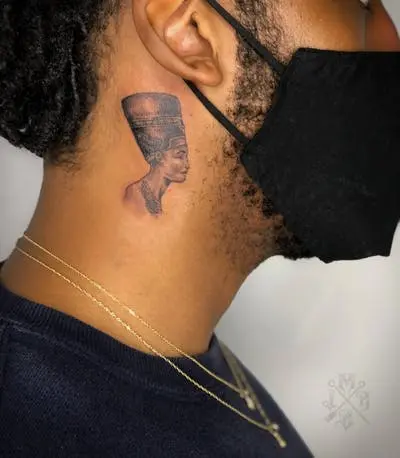 The meaning of the Nefertiti tattoo
We propose to understand the meaning of the tattoo in the form of Nefertiti. Whoever had to see this Egyptian beauty at least once could no longer forget her charm and extraordinary features. Her soulful face is still the standard of beauty for many today. Often, the Egyptian queen is depicted on their canvases by artists.
The name of the queen in translation means "beauty has come." Not much is known about its origin. So some are sure that the real name of the queen is Tadu-hippa and she was the daughter of King Tushratta. She was allegedly given in marriage to an Egyptian pharaoh. According to local tradition, she received a new name, which tells about the fact that its owner is of foreign origin.
Others are convinced that Nefertiti is a purebred Egyptian. All those who like the latest version of the origin of Nefertiti are sure that Tiy chose a girl as a wife for her son. And the reasons for this choice were quite understandable. So Nefertiti came from a family close to the court and was very beautiful. It is not surprising that a tattoo with an Egyptian beauty is still being done today.
What does nefertiti tattoo mean?
Tattoo with the Egyptian queen is chosen by both men and women. Both sexes often wear underwear old school drawings, watercolors and graphics. Tattoos look spectacular both in black and white and in color versions.
Such a special underwear image of an Egyptian beauty will mean the external and internal beauty of its owner. In addition, such a drawing will tell about a person who is confident and who knows his own worth.
Importance for men
Not so often, but still men get tattoos depicting Nefertiti. The Egyptian beauty will captivate the stronger sex with her beauty, and they often choose images in the style of realism or old school. For men, these tattoos mean:
interest in Egyptian culture;
sympathy for Nefertiti;
self-confidence;
A tattoo in the form of an Egyptian queen on a man's body will mean an interest in Egyptian culture. In addition, such a wearable image can tell about the owner's sympathy for Nefertiti.
Perhaps even she is the ideal of beauty for a man. Such a tattoo for a representative of the stronger sex can mean self-confidence. Although sometimes such images of men are made not because of special symbolism, but because of a beautiful drawing.
Value for women
Sometimes women choose a tattoo in the form of the beautiful Nefertiti. Most often, women prefer such drawings in the form of old school and watercolors. Colorful images with an oriental beauty for the fair sex mean:
love for everything beautiful;
interest in Egyptian culture;
self-confidence;
A spectacular tattoo depicting an Egyptian beauty will tell you about its owner's interest in Egyptian culture.
Such a woman probably knows her own worth and loves everything beautiful.
Often, ladies choose such tattoos because of the showiness of the drawing, and not because of their special meaning.
Which tattoo image to choose?
There are many different tattoo options. Among the most popular are wearable images in the style of realism. Such a tattoo often becomes a choice for both men and women.
Sometimes, representatives of both sexes choose old school drawings as their wearable image. Such images are colorful and effective.
Watercolor style tattoos look no less impressive and are very reminiscent of watercolor drawings.
Tribal wearable images combine many different patterns. You can make a spectacular tattoo on different parts of the body.
Photo of Dad Nefertiti on goals
Photo of Nefertiti tattoo on the body
Photo of Dad Nefertiti on his hands
Photo of Dad Nefertiti on his feet