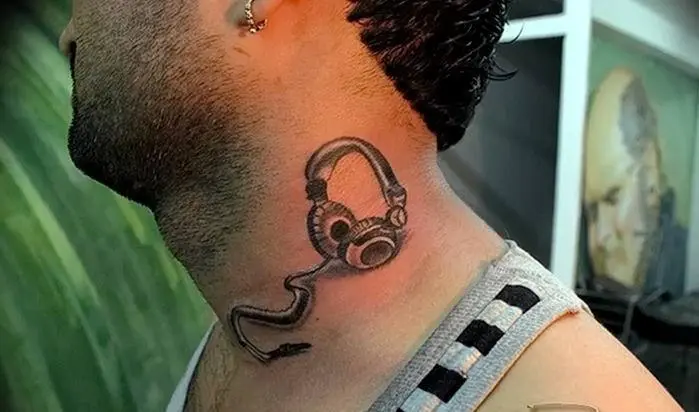 Headphone tattoos began to be in great demand in specialized salons just a few years ago. It should be noted right away that such tattoos are done by both women and men, because in love of music no gender or age restrictions.
Headphone tattoo meaning
Some of the most popular ideas for "musical" wearable images:
Bead headphones with "flying out" notes or a treble clef.
Studio headphones with microphone.
Playing with such an accessory in various styles.
Many tattoo artists have come to the conclusion that representatives of the stronger sex prefer to fill the image of studio or DJ headphones, and girls more often opt for "droplets" that look sophisticated and feminine.
Placements of tattoo headphones
The place for such tattoos can be varied - shoulders, neck, wrists, chest, shoulder blades, etc. The tattoo of small earbuds, which is located behind the ear, looks most effective.
In most cases, headphones as a sketch for a tattoo are chosen by creative people, music lovers, DJs and musicians, thereby emphasizing their belonging to the musical culture. Some owners of these tattoos claim that over time they have improved their ear for music and even their voice.
Photo of headphone tattoo
Photo of headphone tattoo on the body
Photo of headphone tattoo on hand