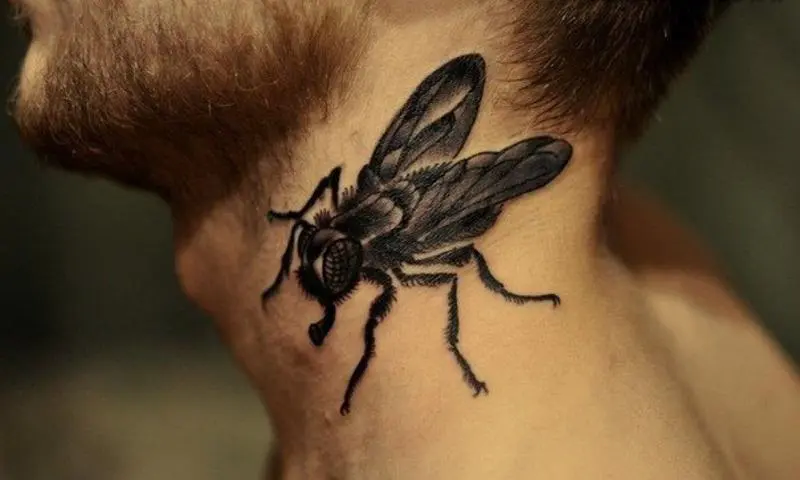 Insect tattoos are considered sacred, necessarily carrying some kind of hidden meaning.
For example, a fly tattoo, in addition to several meanings, also causes quite contradictory feelings - disgust, interest, sympathy.
That is why, before making such a tattoo, you need to decide what meaning the drawing will carry. Fly tattoos today are done on various parts of the body - the back, arms, neck, face.
However, not all tattoos depicting this type of insect look appropriate and beautiful, so you need to carefully coordinate your sketch with the master.
The meaning of a fly tattoo
The owner of the image of a fly on the body can put different meanings into his tattoo. Despite the widespread belief that the fly represents weakness and sinfulness, this insect has another interpretation.
For example, among the Jews, Beelzebub (one of several of the devil's henchmen) is the lord of the flies, which gives these insects a special status.
Some religious people believe that the image of a fly on the body will save them from troubles and evil forces, acting on the principle of "wedge by wedge".
The main meanings of a fly tattoo, which is often done recently:
Perseverance
Business acumen.
Demonstration of negative qualities (deception, sinfulness, baseness, etc.).
Religious affiliation.
Interest in this insect.
In general, it should be said about the many meanings of such a tattoo, so you can choose what is close to you. That is why such a pattern on the body can be called truly universal.
In the photo, a fly tattoo looks different - some cause dislike, while others, on the contrary, sympathy. It all depends on which sketch you choose, as well as how experienced your master will be.
Photo of fly tattoo on head
Photo of fly tattoo on body
Photo of a fly tattoo on the leg
Photo of a tattoo of flies on his hands