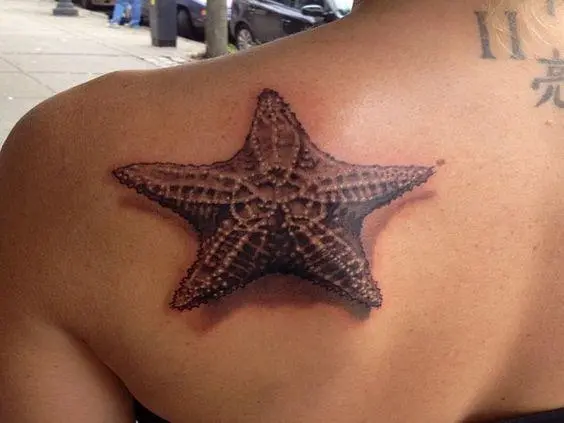 Starfish tattoos have been used for centuries.
With this symbol, sailors, as well as people who were carried away by romance of endless seas and oceans.
The meaning of the starfish tattoo
Previously, the image of a starfish personified a life guide, a desire for goals, as well as overcoming any obstacles and temptations.
In Ireland, such a tattoo was done by those who wanted to gain health. A little later, travelers, soldiers began to fill such tattoos, and more recently, starfish began to adorn the bodies of people who are absolutely not connected with the sea.
Today, wearable drawing in the form of a starfish can be very diverse:
2- or 3-dimensional;
Colored or plain;
Compact or large in size.
Colored volumetric 5-pointed stars, surrounded by oceanic symbols - algae, fancy stones, fish and other attributes look quite impressive. Having filled such a tattoo, you will become the owner of a unique landscape on your body.
Places of tattooing starfish
A starfish tattoo can be a great option for your first tattoo. If you do not want to apply a large drawing, but at the same time give your image originality, a small monochrome star will quite cope with such a role.
Also very popular is a scattering of small starfish embossed on the back, hips, shoulder blades, and neck.
In conclusion, it should be noted that in addition to tattoos of sea stars, pentagrams, comets, religious symbols (stars of David), etc. are used as a sketch.
Each of the listed ideas can suit absolutely any person, since all tattoos in the form of stars are united by one thing - a positive effect on the owner of such a picture, as well as his life in general.
Photo of starfish tattoo on head
Photo of starfish tattoo on body
Photo of starfish tattoo on leg
Photo of starfish tattoo on hand