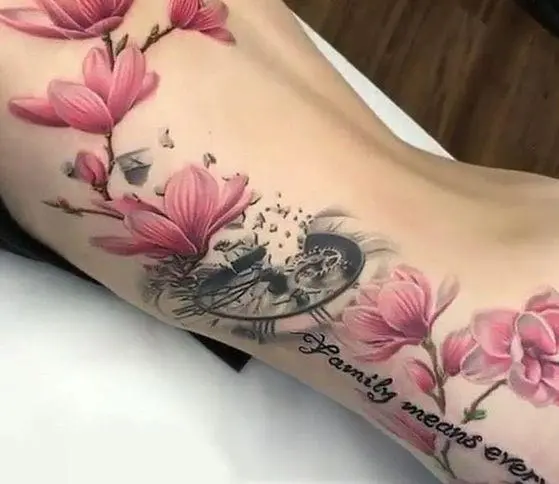 Tattoos of flowers are applied to their bodies mainly by girls. Most colors symbolize femininity and tenderness... Plants on the skin are especially popular in the countries of the East. Sakura, magnolia, lotus can be seen on the body of many oriental women.
The meaning of the magnolia tattoo (sakura)
Often, tattoos are simple and uncomplicated, but at the same time, they are exquisite and unique. They testify to the fragility and innocence of the female nature, as well as to the excellent artistic taste.
The image of the magnolia is widespread in Japan and China. It is these countries that are considered the birthplace of the plant. The flower owes its name to the court botanist Louis XIV, who often sent his subordinates on expeditions to search for medicinal plants. In one of the expeditions to the East, a small tree with large flowers and a unique aroma was discovered. The botanist who found the flower named it "Magnolia" after his friend. Over time, the name was simplified and the flower became magnolia.
The flower symbolizes feminine beauty and charm, self-respect, self-sacrifice.
The meaning of a magnolia tattoo depends on how the plant is depicted:
Smooth strokes and a blurred background make the flower delicate and demonstrate the sophistication of nature, creative impulses and doubts. It is a symbol of the contemplation of beauty.
Rigid execution, rough lines and strokes testify to insolence, a desire to independently decide their own destiny, and not go with the flow.
Who is the magnolia (sakura) tattoo suitable for?
Such a tattoo is done by sophisticated natures with an ideal sense of style, creative personalities. Magnolia is designed to protect the fragile inner world of a vulnerable nature from the influence of the outside world.
Regardless of the type of design, the tattoo is placed on the shoulder, back or ankle. In order for the image to look harmonious, it is necessary to choose the right size for it. You should also take into account the characteristics of the girl's character. A hard flower is not suitable for creative gentle natures and vice versa.
Photo of a magnolia tattoo on the body
Magnolia Tattoo On Hand
Magnolia Tattoo On Leg
Photo of a magnolia tattoo on the head