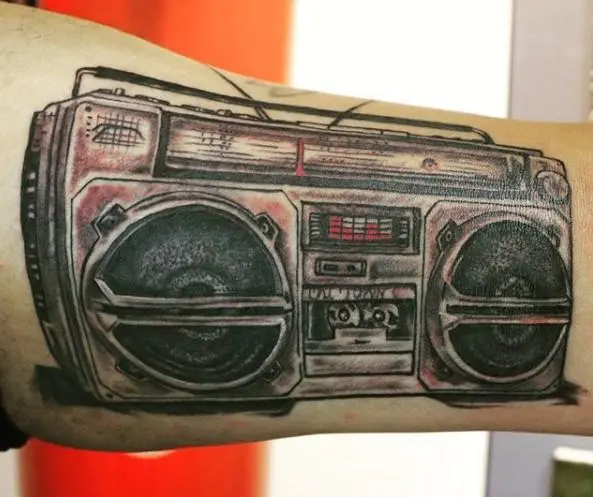 Tattoos with various musical instruments, notes, a tape recorder are made by creative people for whom music is not just a way to relax, but a lifestyle.
This kind of tattoo symbolizes that its owner is definitely a creative person.
The meanings of a tattoo with a tape recorder
The owner of a tattoo tape recorder can write musical compositions, or have excellent hearing and be a demanding connoisseur of music. Such a person will be characterized by constant wearing of headphones and a player.
The second option is also possible. A person may have a passion for collecting equipment, including music. He proudly demonstrates his hobby to others.
A tape recorder can immortalize a person who cannot imagine his life without repairing various equipment. He likes to disassemble, assemble, design something new.
A tape recorder tattoo sketch can be either simple or intricate. There are a variety of options. Much depends on the skill of the tattoo artist and his artistic taste.
You can draw a simple cassette recorder on a small colored background. Or you can create a whole masterpiece of painting by placing it on your shoulder or back. The location depends on the size of the image.
Very often, the tape recorder is depicted along with a rare microphone or headphones... Flowers, musical notes, blur can serve as a background. As for color solutions, black and white drawings with thoroughly traced lines look more stylish.
Color images are less popular. More often than not, male representatives choose the tape recorder as a tattoo. For girls, such pictures will be quite cumbersome.
Such a tattoo will not always indicate a passion for music. The drawing may not have a semantic meaning. This is a stylish, youthful tattoo.
Photo of tape recorder tattoo on head
Photo of tape recorder tattoo on body
Photo of tape recorder tattoo on hand
Photo of tape recorder tattoo on leg