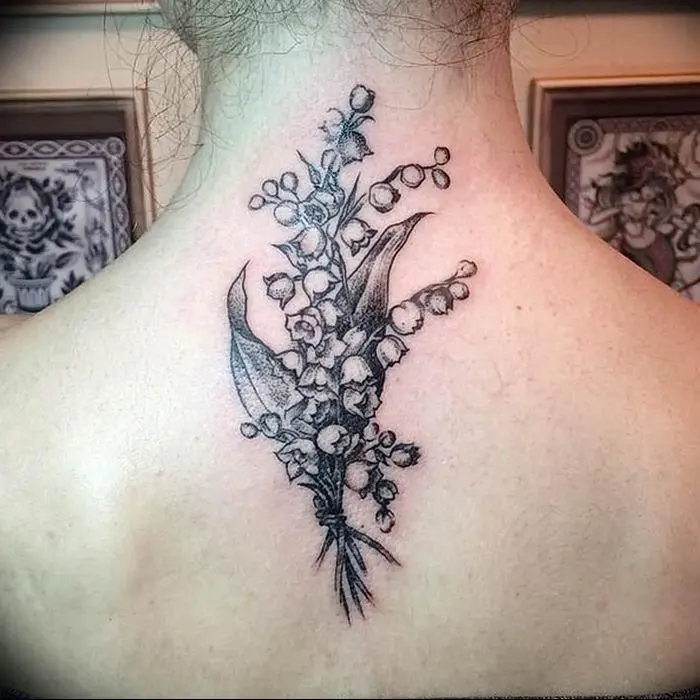 Flowers for tattoos are chosen mainly by girls. What could be more gentle and innocent than a flower. However, some flowers may have the opposite meaning.
As for the lily of the valley, everything is simple and predictable here. It is a symbol of purity, tenderness and femininity. It is often used in bridal bouquets.
Features of flower tattoos
The tattoo can be either color or black and white, large or small.
You can place it anywhere.
The dimensions must correspond to the place of application. Let's say a large colored drawing looks tasteless on the inner surface of the hand.
Color solutions can go away from the white-green colors of the lily of the valley. Many leave only the bells, and the rest is either an intricate background or a pattern.
Among other things, a lily of the valley tattoo symbolizes love, family values, mutual understanding between spouses, and a strong marriage union. Many recommend this drawing to unmarried girls who are looking for their soul mate.
Lily of the valley is a very interesting flower. A sensual strong scent is hidden behind small white flowers, which gradually unfolds. For a girl, this delicate flower can mean that for modesty and tenderness hides a passionate nature, capable of deep and stormy feelings.
Photo of a tiger lily on the head
Photo tattoo on the body
Photo of a tiger lily on hand
Photo of a tiger lily on the leg