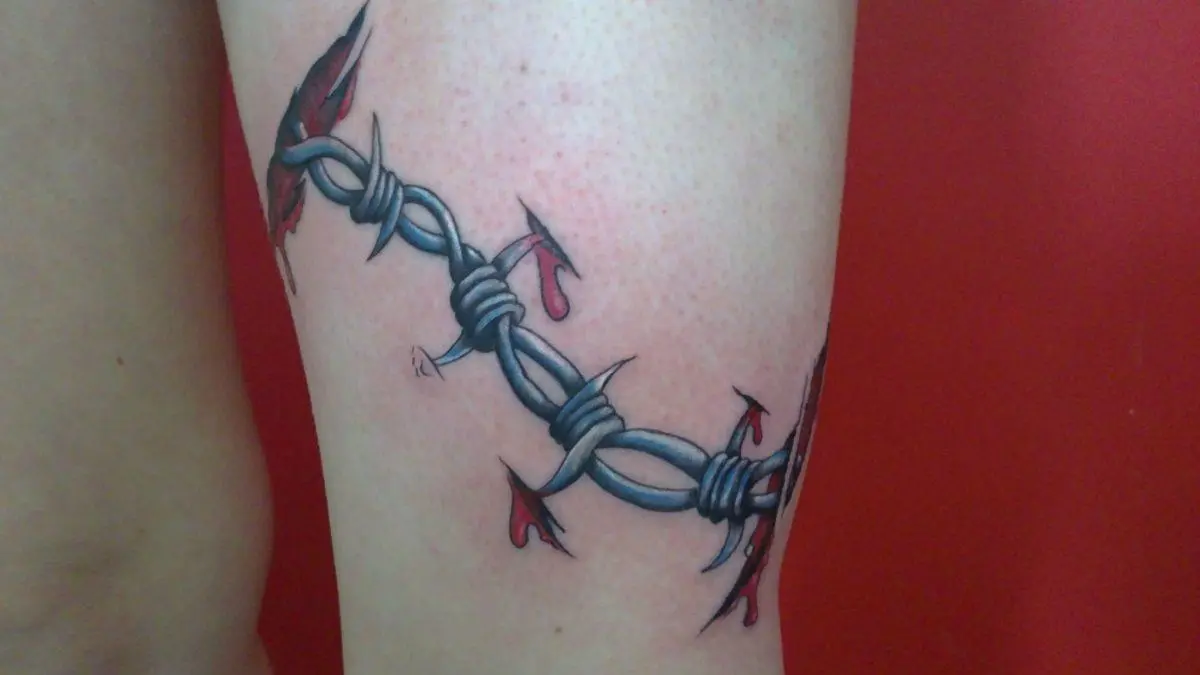 Generally, barbed wire tattoo is used in the context of prison style.
People who have spent years in prison usually have this picture on their shoulders.
Unjustly convicted prisoners make tattoos in the form of barbed wire, for which the background is a cross. If we add a sailboat and the sun to this artistic composition, then such a picture means faith in the bright days of the future and respect for parents.
If entwined with drag rose flower, it means that the girl was in a juvenile colony.
The meaning of a barbed wire tattoo
Barbed wire is a tattoo, the meaning of which is ambiguous. This tattoo can mean not only belonging to the dungeons of places not so distant, but also be a symbol of Christ's sacrifice.
If a person's body depicts a heart that burns in fire and is entwined with barbed wire in the shape of a crown of thorns, then this speaks of great compassion and love. The mercy and forgiveness of the world are invested in such a performance of the picture.
A broken wire as a tattoo can be regarded as the end of a difficult life stage. Earlier, when the meaning of tattoos had a semantic load, the picture, executed in the form of a wire chain, symbolized a closed, asocial person who appreciates violence and carries it in himself.
But over time, the attitude towards the true meaning of the tattoo has changed somewhat, therefore, by combining various bright elements, the master gets a colorful picture that attracts attention.
Where is the wire stuffed?
This tattoo can be located on the ankles, biceps, wrist or thigh. A tattooed ankle or biceps may not carry any information, but may characterize a person as hot-tempered and embittered.
The image of barbed wire in the form of woven hearts can indicate strong love. But if bloody drops are added to the hearts, then perhaps sad memories or tragedy are associated with this feeling in a person.
A barbed wire tattoo on the arm can be located both on the bicep and on the wrist. There are many variations on the theme, both a classic wire bracelet and a thorn snake wrapped around the arm.
It's time to go to our gallery of photos and sketches, and see if such a story is right for you!
Photo of barbed wire tattoo on hand
Photo of barbed wire tattoo on leg