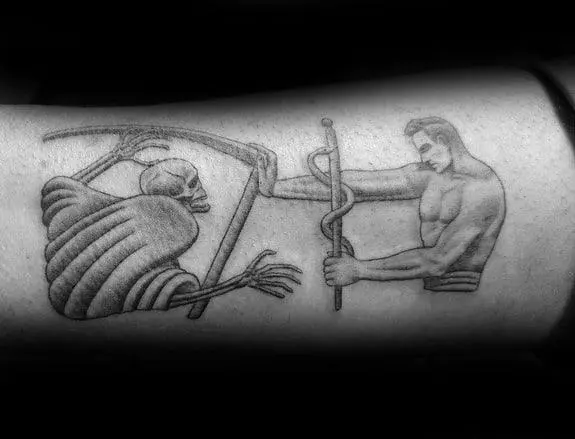 The meaning of the caduceus tattoo
In ancient times, each people put various weapons into the hands of the gods and awarded them signs used in the process of rituals and worship. The signs were designed to protect and preserve, as well as endow with various character traits. They were applied to stones, amulets, totems, altars, clothing and, of course, to the skin.
The meaning of the caduceus tattoo
Currently, tattoos are used not only as amulets, but also just for beauty. One of these signs is the caduceus.
Caduceus has other names as well. Translated from Greek, it means the staff of the messenger. He was considered the sign of the god Mercury (Hermes), considered the patron saint of wisdom, and he was called the rod of this deity.
Externally, the tattoo is a combination of sticks, wings and snakes. The snakes intertwine, symbolizing the union in the world of good and evil, light and darkness, masculine and feminine and other polarities. It is on their balance that the harmony of the universe is built. The stick itself carries the meaning of power. Small wings speak of airiness and the ability to cross any boundaries.
Who chooses a caduceus tattoo
A caduceus tattoo is chosen for themselves by people striving for harmony, mutual understanding and balance. The symbol is associated with messengers of goodness and peace, carrying wisdom and mystery. The image can be found on temples in India, on the ancient architectural structures of Egypt and many other countries. Sometimes the sign is interpreted as a rebirth.
Caduceus has several main meanings:
A symbol of balance in the world, healing.
Inspiration and swiftness.
Striving for justice and truth.
Wisdom, strength, reconciliation.
A photo of a caduceus tattoo shows how different and individual this image can be. The tattoo looks equally beautiful in a colorful and black and white design. Suitable for use on the skin for people of any age and any gender.
Photo of caduceus tattoo on the body
Photo of Daddy Caduceus on his hands
Photo of a caduceus tattoo on the leg