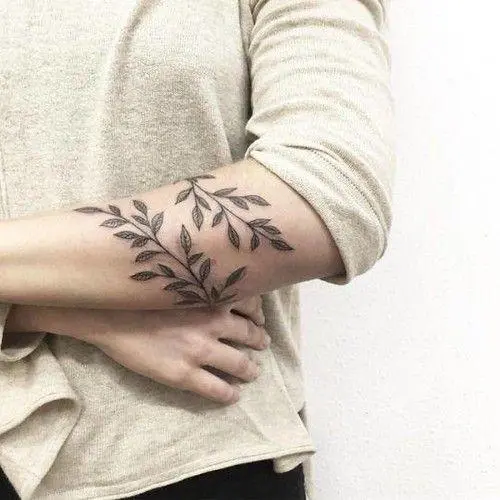 Consider the meaning of a tattoo depicting a twig. Who makes a tattoo like this?
Who makes the twig tattoos?
Recently, drawings related to botany are gaining more and more popularity - sprigs of lavender, olives, sakura. Similar patterns are popular with both boys and girls, the only difference is in the choice of the pattern itself and in styles. Girls are attracted to more delicate twigs - for example, lavender or sakura. On men, you can see a tattoo with an olive branch, which, on the contrary, emphasizes courage.
What does a twig tattoo mean for a man?
Men choose more masculine options - thorny rose, olive branch, oak, maple, laurel wreath. In most cases, this means:
maple branch - high morality, intelligence;
laurel branches or a wreath - a symbol of triumph and victory;
oak branch - a symbol of wisdom and strength
A tattoo depicting an olive branch carries wisdom, the desire for victory.
What does a twig tattoo mean for a woman?
For girls with plant plots, tattoos are one of the most popular, almost all the branches depicted on the girl's body reveal:
female beauty, femininity;
elegance;
delicate character, sensuality, vulnerability.
Which option to choose
Undoubtedly, it is worth choosing a drawing based on the style in which the tattoo is performed, on the character, morals. If a man is confident in himself, wants to achieve a goal and wants to show it to others, then the choice is with the laurel branch.
If you are attached to the style, and want to make "geometry", then an oak branch will look good. Branches with large leaves will look good in trash polka style and realism.
Twigs for girls always look good in realism, especially if relatively large leaves are present on the branch. A sprig of lavender, or any other with small flowers and ovaries, will look good in a watercolor painting.
What part of the body should be "stuffed"?
This tattoo looks great on any part of the body, both for guys and girls. A small laurel branch looks good above the eyebrow. A branch of sakura, made in watercolor style, will add elegance to a woman's shoulder.
A rougher image of a maple leaf will look good on guys' chests, and a thorny rose branch wrapping around the lower arm will add masculinity.
As you can see, there are a lot of options, the main thing is your imagination!
Photo of twig tattoo on head
Photo of twig tattoo on body
Photo of twig tattoo on hands
Photo of a twig tattoo on the legs