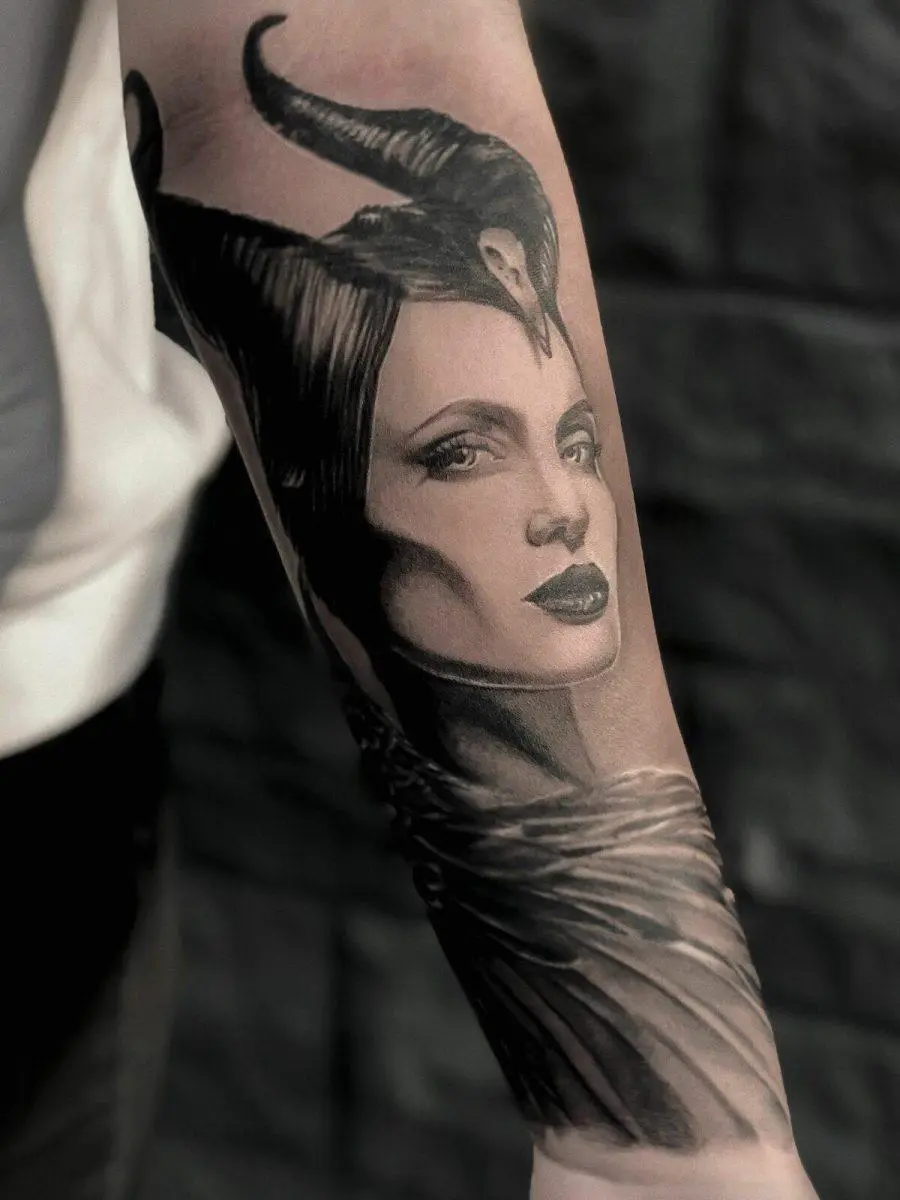 Great ideas for a Maleficent-inspired tattoo
This character is included in the ranks of "villains" in his favorite cartoons from childhood, in fact, this is anything but evil, in film Maleficent... This revision of the well-known story of The Sleeping Beauty became so popular that many wanted it. tattoo with Maleficent the main character was played by the wonderful Angelina Jolie.
In this film, Maleficent is a young and loving fairy whom Stephen betrayed and deprived her of her beautiful and strong wings, a young man who seeks to prove his worth to the king of the kingdom and inherit the throne.
In addition to the damage, an insult: Maleficent not only lost what she believed to be her love, but part of her was also stolen.
Maleficent obviously does not tolerate Stephen's betrayal and, seized with hatred and resentment, curses the little child of his traitor, Aurora... But Maleficent's heart is not evil and she will follow the little Aurora who grows up in the forest (tended by 3 clumsy fairies), secretly protecting and caring for her. Finally, once the irreversible curse is fulfilled, causing Aurora to fall into eternal sleep, in fact, it is Maleficent who will give her kiss of true lovefreeing her from her own curse.
As Fosco says (beautifully played by Sam Riley), the faithful crow of Maleficent ",No more true love».
In short, this storySleeping Beauty antagonist, hitherto unknown, conquered us, and therefore it is not surprising that many decided to tattoo the main character Maleficent.
Here's the trailer for the first Maleficent movie:
Maleficent - Official Italian Trailer | HD
Also released in 2019 second chapter Maleficent is the Lady of Evil. If in the first film we understood the good nature of this character, then in the second film we will learn even more about his character and his origin.
Possible meaning of a tattoo inspired by Maleficent
What I find very interesting in this film and what I find appropriate designed for a tattoo inspired by Maleficent, is that the characters are fictional, but they are more "human" and "imperfect" than many other films and cartoons. Maleficent is the main character, but she is also quick-tempered, she has prejudices, but she wants to know, she is proud but compassionate, she is strong and powerful, but she also has insecurities.
A Maleficent-inspired tattoo can be an original way to portray this. set of opposites what, after all, is in each of us?
Through GIPHY