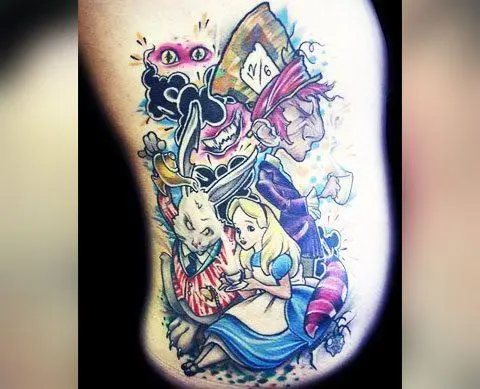 Alice in Wonderland Tattoos
Do you remember the White Rabbit? And the Queen of Hearts? A mythical and arrogant Caterpillar? If you've seen the Disney cartoon "Alice in Wonderland", based on the adventure of the same name by Lewis Carroll, you will surely remember these characters. The plots of these magnificent tattoos inspired by Alice in Wonderland they are therefore easily recognizable to those familiar with the history, or at least with the caricature.
Alice is a pretty lively blonde who once, while playing on the riverbank, was attracted by a white rabbit who seems to be in a very, very hurry. Alice follows him to his lair, and from there he will experience a thousand adventures of paradoxes, he will meet fantastic, crazy, sometimes vicious and other bizarre characters such as the Cheshire Cat.
There are so many fantastic elements and characters that make up the story of Alice in Wonderland, and they are so special that there is no shortage of cinematic, theatrical and even video game transpositions!
Therefore, it is not surprising that many fans of this tale, perhaps reflected in the fresh naivety with which Alice looks at this bizarre world, got a tattoo of Alice herself or other characters. A very common tattoo depicting Alice in Wonderland is the phrase of the Cheshire Cat: "We're all crazy here". A phrase that applies well to the world in which events take place, but even better to the world in which we live, don't you think? 😉