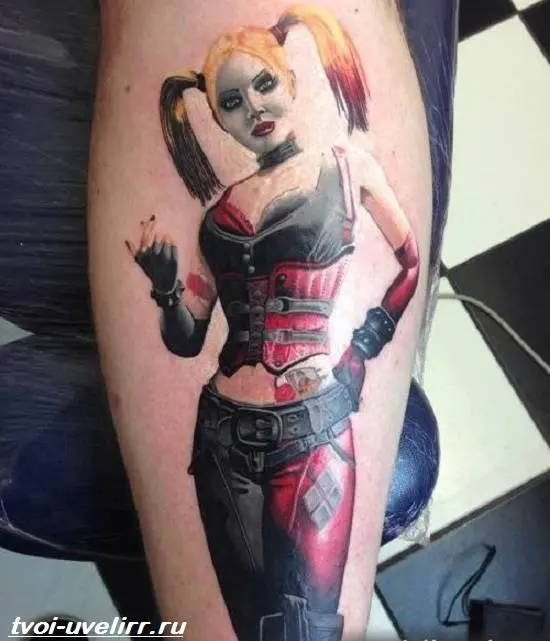 Harley Quinn tattoos: what she has and what inspired her
She's insane to bond, immoral, unfair, bewitching, madly in love with a villain, athletic and extraordinarily smart: we're obviously talking about Harley Quinnaka Harlene Francis Quinzel, the girl who took on the Joker from the Batman comics! If you are thinking about purchasing Harley Quinn tattoo, one cannot but know his history and the "darkest" characteristics of this character!
Who is Harley Quinn
First of all, Harley was a psychologist at a crime asylum in Gotham and had no greater desire than to write a book about the evil Joker. However, she was seduced by him and fell in love with him to the point that she helped him escape from the orphanage. The story between Harley Quinn and the Joker he really is full of push and pull: The Joker, you know, is not the most psychologically stable person in the world, and more than once Harley has been mistreated, kicked out or threatened. Despite the Joker's emotional hesitation, Harley always returns to his side as an assistant in various crimes and tries to kill Batman.
Through GIPHY
But let's talk a little about Harley Quinn's "abilities". The Joker's company will not benefit anyone, much less Harley Quinn, who in the comics becomes a cruel sociopath and one of the most dangerous villains in Gotham. However, what characterizes him isextreme flexibility... Harley quinn articulated and highly maneuverable, she manages to achieve fast jumps and movements that allow her to dodge even close range shots, and last but not least, she is an expert in martial arts! But that's not all, like the Joker. also an expert in the use of firearms (not always very serious, indeed, we can say that it is often a little comical weapon).
Harley Quinn tattoo
As you can see in the films Suicide Squad and Bird of Prey, in which Harley Quinn plays Margot Robbie very well, Harley Quinn has so many tattoos!
Rotten + Heart Tattoo on Cheek
This is not quite the tattoo that mom would approve of. In fact, "Rotten" means "rotten".
Daddy's Little Monster Tattoo
Harley has a tattoo on his shoulder meaning "Daddy's little monster." Perhaps more tender, if not for such a formidable villain like Harley ;-D
"The Joker's Property" and "I Watch"
Speaking of tattoos that don't exist in life, we mentioned that tattooing a guy's name is not the best idea. But we all know very well that Harley is not the kind of person who follows advice.
A tattoo with women's eyes and the words "I am watching" might seem like a simple threatening warning.
Joker "J" tattoo on arm
Harley is very, very loyal to the Joker. But, as we said above, it's not always a good idea to express your love with a tattoo ...
Checkered arm tattoo
Harley has a red and black checkered pattern on her arm, which is often part of her outfit in the comics.
Lucky for you tattoo in the lower abdomen.
I don't think there is a need to go into an explanation of this tattoo, which is nevertheless very witty. Nearby, a dolphin is jumping in front of a rainbow.
Harley Quinn tattoo on leg
"Let me tell you a maniac," "I love Paddin," "Harley + Puddin," "I'll wait forever," "H + P," etc.
In short, Harley Quinn's legs are a tribute to the love between these two bad guys! And, probably, Harley made them herself….
Harley Quinn inspired tattoos
In addition to the more or less stylized portraits of Harley, the subject of Harley Quinn's tattoo is undoubtedly trio of rhombuses, red and black, like his suit, completely red or blacked out.
Obviously, we cannot mention the tattoos on which Harley and the Joker are depicted together: although their love is the love of two mentally unbalanced madmen, there are moments of passion between them, and Harley's devotion to her man is sometimes disarming and incomprehensible ... but it is not true that many of we, too, experienced such ... "crazy love"?