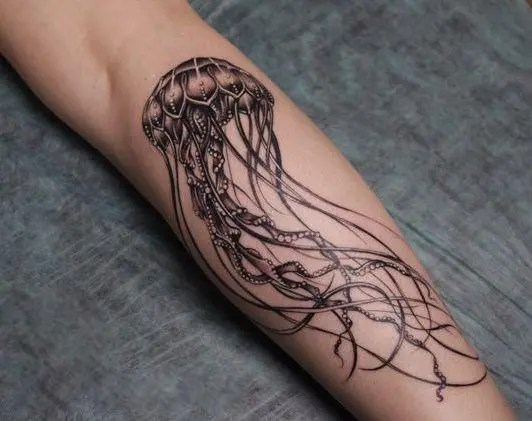 Medusa tattoo: photo and meaning
Do you like jellyfish? Many are afraid of this, and who at least once in their life has not heard that jellyfish are found in this area, and that they entered the water with extreme caution? For example, here in Italy we are not at particular risk, since our jellyfish, as a rule, are not poisonous, but simply sting. However, there are species of very bright jellyfish with long, slender tentacles that are as adorable as they are terribly venomous and often deadly.
Precisely because of their color, smoothness of movement, the feeling of lightness that these animals acquire in water, jellyfish are animals that lend themselves to creating tattoos of sensational beauty and harmony. But what to do tattoos with jellyfish? Do they symbolize something?
The meaning of the jellyfish tattoo
Typically, each tattoo carries an overall meaning, which obviously adds value that the tattooed person might ascribe to it. A tattooed jellyfish in this case indicates a person who wants to "sail on the sea of ​​life" let yourself get carried away from events like jellyfish with sea currents. Medusa seems to have the ability to connect us to the world of the unconscious and therefore trust the life cycle. Of course, being a marine animal, jellyfish tattoos are highly correlated with love of water and the sea.
Water is often a symbol of introspection, thought, deep self that resides in each of us. Thus, a tattoo of an aquatic animal, such as a jellyfish in this case, can mean will connect thoughts and physical, water and earth, soul and matter.