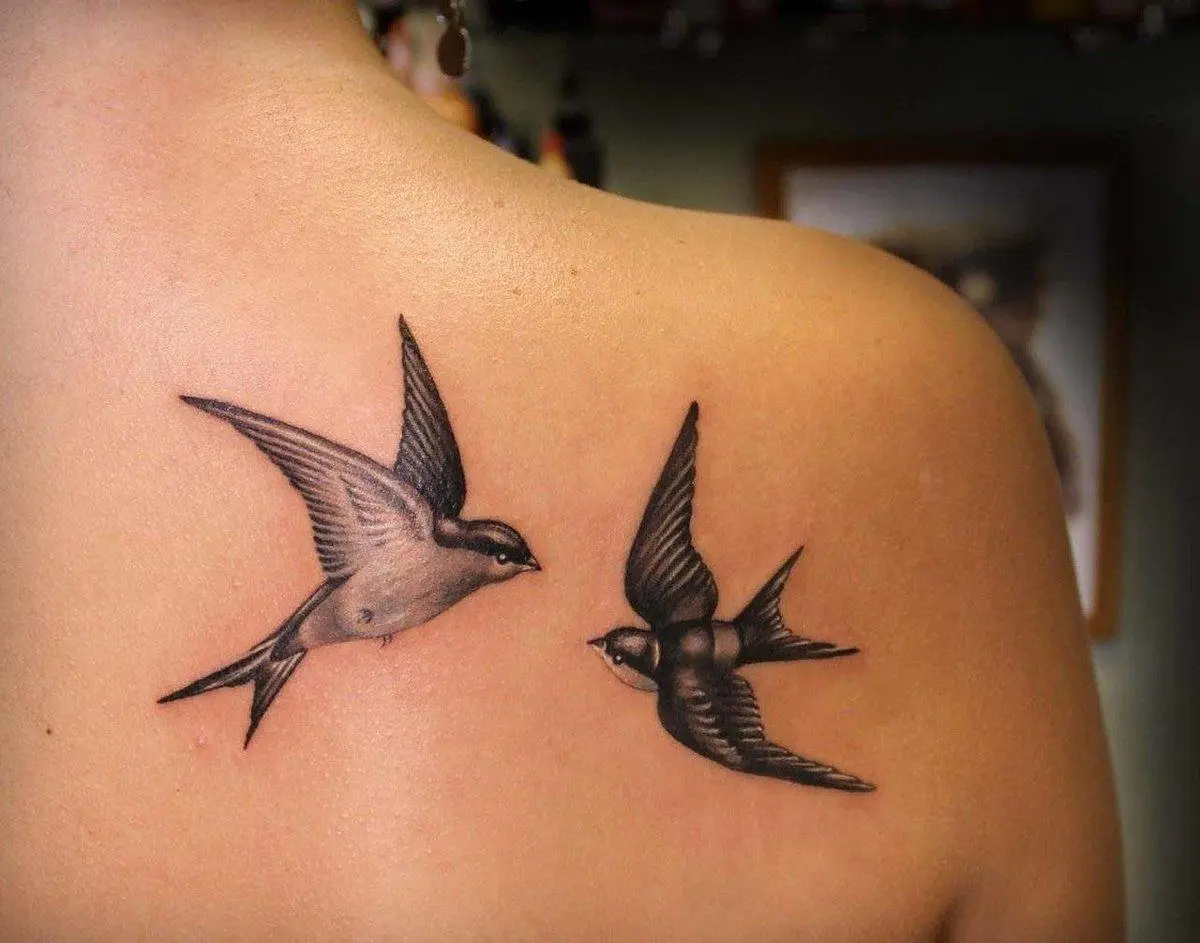 Stunning swallow tattoo - photo and meaning
Seeing them circling in the summer sky is definitely one of the scenes that makes us want even more to have two beautiful wings in order to fly in complete freedom. As far as tattoos are concerned, these are animals that belong to the "classics", a subject with a rich history and symbolism attached to them by various cultures and beliefs. We see them tattooed in different styles and points of the body, in color or black and white, in the old style or in the realistic style. Thus, swallow tattoos, despite being classics, are not at all obvious or trivial, and their meaning is even more interesting.
What is the real meaning of swallow tattoos? Throughout history, swallows have represented well-being, luck, loyalty and strength, an essential function for swallows to travel very long distances during migration. However, swallows are part of the classic old school tattoo items, closely associated with sailors and life at sea, because swallows signal the approach of land. Thus, from this point of view, the swallow represented Hope for sailors, you will return home safe and sound. Swallows also return home every year, no matter where or how far they have gone. Therefore, a swallow tattoo symbolizes salvation, victory over difficulty (difficult journey), returning home after a negative event.
In addition to these aspects related to the sea, returning home and the characteristics of this animal, the swallow has another feature: it chooses a mate for itself, which will be unchanged throughout its life. Thus, a swallow tattoo can also represent eternal loyalty and love.
However, one of the most common values ​​is freedomso much so that in the past it was one of the favorite tattoos of those who finally got out of prison after a long imprisonment.
What is the origin of swallow tattoos? Contrary to what you might think, swallow tattoos don't have the meaning we've talked about so far. In fact, everything was born on an ancient ship called "Swallow" (swallow in English). On this ship rebellion... To get to know each other, the sailors decided to accept the sign of recognition, and therefore 7 rebels tattooed a swallow on their chest.
After this episode, the swallow became a tattoo for those who wanted to testify to their experience at sea: every 5.000 nautical miles (about 9250 km) a sailor had to tattoo a swallow on his chest. Since travel by sea was very dangerous at that time, the presence of one or more swallows on the chest was a sign of a great experience of a sailor, and therefore reliable and valiant.
Legend also wants that, if a sailor died in the sea by drowning, the swallows tattooed by him would come to life and carry the sailor's soul out of the water and to the sky.