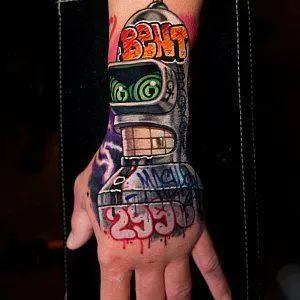 Irresistible futurama tattoos
Bender, Dr. Zoidberg, Leela, Fry, Amy, Professor Famsworth, Mom. If these names tell you something and automatically make you smile, then you, too, are among the many fans of the animated series. Futurama, by Matt Groening. The same characters are the protagonists of this gallery dedicated to the actual Tattoos in the style of futurama!
Among the most popular characters, we will definitely find pliers, an irreverent robot who loves to drink beer (in fact, he keeps supplies inside his belly), smokes cigars, definitely has no hair on his tongue, and combines all colors, often accompanied by fry, a boy from our century, but accidentally hibernated and catapulted into the future.
The responsible mind of the group is undoubtedly Leela, a purple haired Cyclops girl who can kick and punch anyone who deserves it. The character that we cannot fail to mention is Dr. Zoidberg, a kind of anthropomorphic lobster who swallows everything that comes his way, and which in the cartoon has always delighted us with metamorphoses, ink splashes, smelly glands and other very disgusting, but this very popular with fans of the genre; D
Inspired by this fantastic animated series, these tattoos are an ode to irony and humor! Applause to the brave people who have tattooed or more Futurama characters, and ... good vision to all of you!