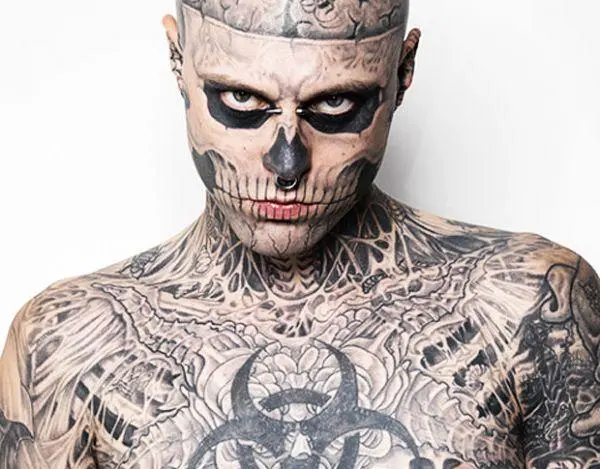 Zombie Boy: The Story of Tattooed Rick Genest
Zombie boy Is a stage name that he has earned over time, but his real name is Rick Genest. He was born in 1985 in Canada and few can say that they have never seen him because he is one of the most tattooed men in the world. Why is he called the zombie boy? Well his body is covered 139 tattoos of human bones, 176 insects, numerous muscles and flaps of crumpled skin - it all looks like one whole. living skeleton.
Who is a Zombie Boy?
You might think this is a common exaggeration, an exhibitionist instead of Rick Genest's story is full of explanations on this path of being. His story begins at the age of 15, when he underwent a major operation. a brain tumor... This experience left him so strong that he decided to transform his body with tattoos. The process was definitely not quick: the experienced hand Frank Lewis It took him 10 years to get all the tattoos Rick asked for.
While Rick's body turned into a living work of art, he decided to do it: first as a punk, receiving money from tourists who wanted to be photographed with him, and then worked in a circus troupe (with which he still collaborates). Since she was clearly a non-standard body, it didn't take long, why fashion and entertainment will notice it.
In 2011, Lady Gaga, who has always loved everything unusual and bright, made him appear in her music video for the film "Born this way", and on this occasion she pretended that he looked like him. Then it was the turn of the fashion house Thierry Mugler, who wanted to use it in some of their fashion shows and advertisements, and then appeared in Vogue Japan and GQ Style. Then it was Vichy's turn, who used it for a very specific ad, which even went viral for an ultra-opaque foundation calledGo beyond the cover". In the video, Rick seems almost unrecognizable because his skin appears completely clear. At some point, with a rather determined look, he begins to run a sponge over his chest, face, head, revealing what is under them: very dense tattoos of human parts. The message is very clear and not very new: appearance can be deceiving, and a book cannot be judged by its cover. That said, this ad hit the mark and showed us Zombie Boy in a new version that's hard to imagine if it wasn't for full coverage foundation and hours of work on makeup and hair. Here's a video:
Finally, it was the turn of the cinema, which wanted him to co-star with Keanu Reeves in the 2013 film 47 Ronin. In short, 15-year-old Rick Genest's dream has had some success ... despite being a "zombie boy" few are afraid of him, he is truly considered a sexy icon (especially after seeing him with clear skin in a Vichy commercial! ).
Update August 2, 2018: Death of Rick Genest
Unfortunately, on August 1, 2018, Rick Genest was found dead in his apartment. At first it was assumed that it was suicide, and later it became widespread the possibility that it was an accident. Either way, the news shocked the community of tattooists, artists, fans and people who knew him, including Lady Gaga.