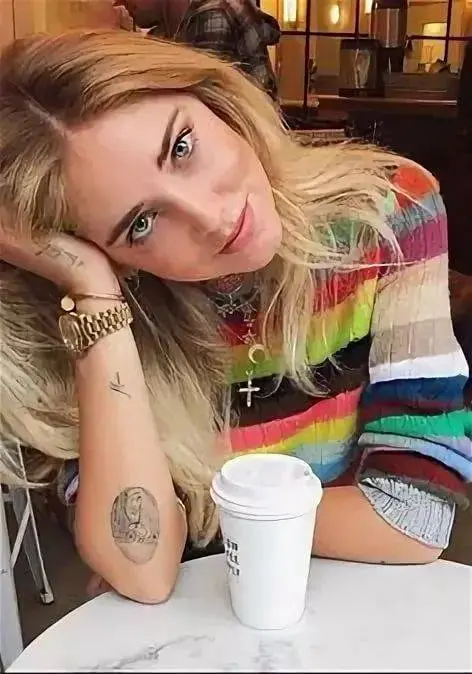 All tattoos by Chiara Ferragna ⋆ Tattoomuse.it
After talking about Chiara Biazi and her tattoos, it's time to talk about a much more famous fashion blogger: Chiara Ferragni, also known as Blondes Salad. How much does he have? What are they? What do they mean? Here are all the answers you could ever look for tattoos by Chiara Ferrani!
Who is Chiara Ferragni?
This may seem like an outdated question, but perhaps not everyone knows who Chiara Ferragni is. If you are among them, then here is a summary.
Chiara was born in 1987 and was one of the first fashion bloggers the web saw.
Mom, wife, entrepreneur, influencer, designer. Chiara has around 18,4 million Instagram followers, including many Hollywood celebrities. It currently has a net worth of around $ 10 million. I don't know what that means, but it's a lot of money.
Billed as one of the most powerful women in the world, Chiara Ferragni has many tattoos that fans adore and often copy.
How many tattoos by Chiara Ferrani? What do Chiara Ferragni's tattoos mean? Why does everyone need Chiara Ferragni's tattoos? If you, too, are awake at night and are tormented trying to get answers to these questions, you have come to the right place: keep reading.
Tattoo with LIGHT on the side
Let's start with Chiara's most popular and copied tattoo - the word LIGHT on her side.
The meaning that Ferragni attributes to this tattoo is unknown, however the word usually has a positive connotation and anyone can give it the meaning they prefer.
Tattoo with the inscription "Ode to Life" on the arm.
Dedicated to a deceased friend, Chiara has the Ode to Life tattoo in italics on her forearm.
Tattoo bow on the back of the head
This is the first tattoo that Chiara Ferragni did, and not everyone knows about it, because it is always covered in hair. Perhaps a symbol of femininity.
Daddy ravioli on his hands
This is the last tattoo that Chiara Ferragni got together with her partner Fedez. In fact, Chiara often mentions in his social media posts that the rap artist calls him "raviolo."
This is an unusual little tattoo, but it cannot be said that it does not have a very personal and tender meaning.
Mickey Mouse Tattoo On Wrist
Chiara has a tattoo of Mickey Mouse taking a selfie on her wrist. Could this be a reference to your work as a fashion blogger (for which selfies are essential) and your childhood?
Tattoos with various inscriptions
Among the many tattoos of Chiara, we can say that there are "different inscriptions". For example, we find the word "Muse" (muse), the inscription "KissKillKiss" and some geographic coordinates (on the side) of the places where Chiara was in the past.
Triangle wrist tattoo
Chiara has a three-dimensional triangle tattooed on the side of her wrist, definitely minimalistic and trendy.
Dog tattoo
On the index finger of her left hand, Ferragni tattooed the face of her beloved pug.
World Map Tattoo On Wrist
Chiara has a very simple map of the world tattooed on the inside of her wrist - a thin line outlining the various continents. It is clear that Chiara Ferragni loves to travel (and, fortunately, she can).
Blue eye tattoo on finger
A tattoo on one eye can have many different meanings, but we don't know exactly what is behind Chiara's tattoo. Maybe this is just a tribute to his own blue eyes?
Image Source: Pinterest.com and Instagram.com
Little Prince Tattoo On Arm
On the inside of Chiara's arm, we find a tattoo inspired by the tale of the Little Prince.
There are not many photos of this tattoo, but it looks like it was drawn in the typical Saint-Exupery style.
Image source: Instagram profile of Chiara Ferragni