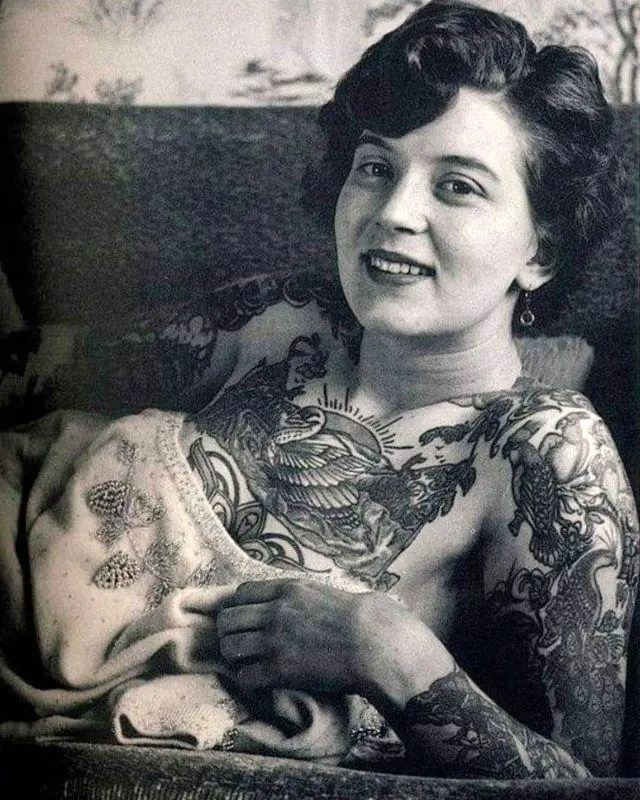 Vintage tattoos: wonderful tattooed women of the 900 century ⋆ Tattoomuse.it
Beautiful, talented, pin-up and acrobats and ... rebels! V 900s Tattooed Women they were certainly not considered model women at the time. Although tattoos have existed since ancient times, in the West, tattooing became a demonized practice until it became underground and a symbol of prisoners, criminals, and travelers. Suffice it to say that only in recent decades, and especially in the last few years, tattoos have become almost an object of fashion, and the percentage of people who do not get tattooed is gradually becoming thinner and thinner.
But back to our "Suicide girls del 900"These are beautiful disruptive and anti-trend heroines that even the books have been about.
Since the mid-800s, tattooed women have performed in the circus, showing their tattooed bodies as if they were a phenomenon or even strange show... Among the most famous was undoubtedly Nora Hildebrandt: Nora had 365 tattoos on her body, one for every day of the year. Her tattoos told a rather sad story: the American Indians kidnapped her and tortured her by tying her to a tree, and since Nora's father was a tattoo artist, they forced him to get one tattoo a day on his daughter's body. Of course, this bloody story was only part of the show, although Nora's father was indeed a tattoo artist.
Among the most daring were Betty Broadbentwho had the guts to defy the time constraints to enter the Miss America pageant covered in tattoos from head to toe!
These tattooed women, being the naughty first, were still considered circus performers. freaks... The one who brought tattoos to the world of "good people" was another great woman, Elizabeth Weinsirl: The doctor's wife, Elizabeth, began getting tattoos in 1940 until they almost completely covered her entire body. In his old age, he took up photographic photography and became known as "Tattooed grandma"Tattooed grandmother."
Hats off to these gorgeous women and their courage! 🙂