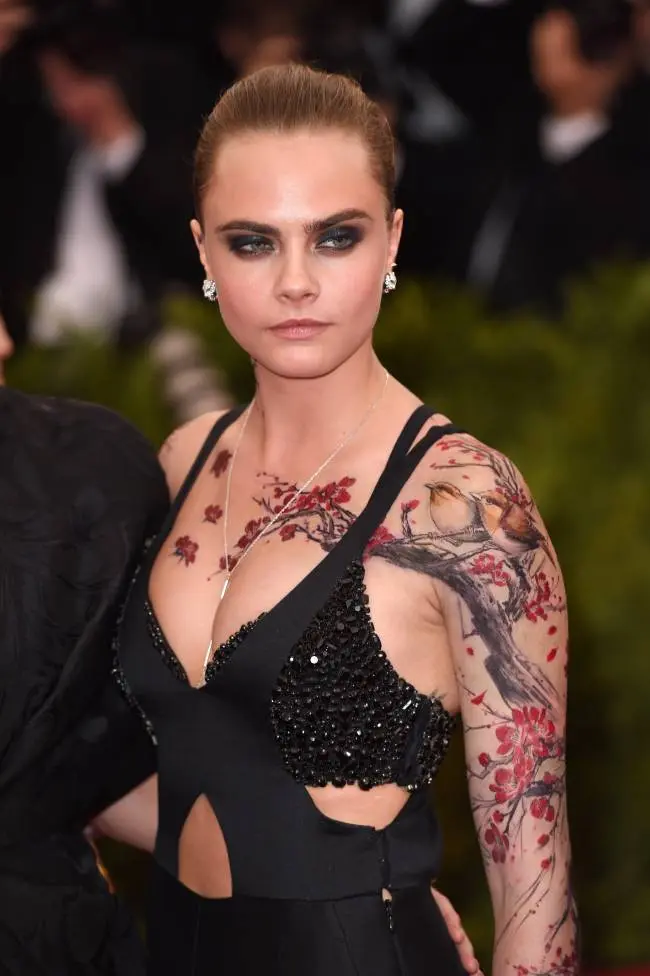 Cara Delevingne tattooed (fake) at the Met Gala 2015
[espro-slider id = 370]
It is appropriate to say: Cara Delevingne every now and then it amazes us. He did it right this time too, showing up at the 2015 Met Gala with a big flower tattoo, and for us ... he hit the mark!
Finally, in fact, tattoos are used and interpreted as decoration to complete the outfit and perhaps due to the skill of the artist (Kate Bang, the one who also tattooed his lion on his finger and some of Rihanna's tattoos), the result is very elegant and charming. ...
In any case, this is not an easy fashion for everyone: it took 11 hours to create this masterpiece! Of course, it cannot be said that Kara was not very patient, but the result was worth it.
However, it is appropriate to take this opportunity to talk about a new trend: temporary tattoos. In fact, gold ones are especially popular to show off in summer accompanied by fluttering dresses.
But how many types of temporary tattoos are there? There are different types of temporary tattoos, the oldest is undoubtedly henna, then there are adhesive tattoos, spray, very popular among the stars lately, and finally solar tattoos made by applying paper forms to the body. and sun exposure.
Cara's, however, were made by hand, with conventional markers suitable for application to the skin.
The advantages of temporary tattoos are numerous and quite obvious: they are easy to remove and have a low cost. You can also use them to check: if you are unsure about a tattoo or where to get one, a temporary tattoo can be the solution that saves you regret after the permanent tattoo is done.
So, if this summer you want to showcase a different look without having anything permanent on you, do like Kara: markers, stickers, sun, pamper yourself with temporary tattoos!