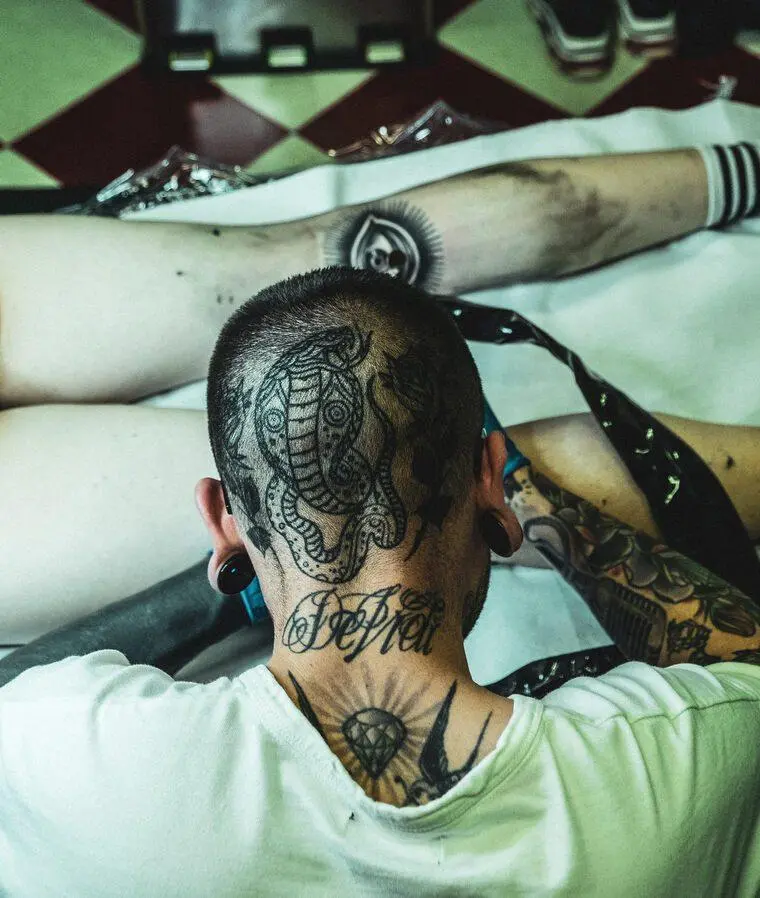 How to become a tattoo artist: the importance of practice
Let's go back to talking about how to become a tattoo artist. In the previous article, we talked about the courses that can be taken to learn everything you need to know, from the rules of hygiene to different styles (here you can find the article on courses). However, today we want to talk about another fundamental element to become good tattoo artists: exercise.
While this may seem trivial, it is not at all easy for a tattoo artist to practice: on what materialsfor example, is it possible to do a tattoo? Where can I buy machines, paints, needles and everything you need to get started? What should I experience: myself or willing friends?
These are just a few of the concerns that the aspiring tattoo artist often faces when deciding to practice. So let's see step by step what steps you need to follow before getting real tattoos on real buyers.
1. Get the materials you need.
This is all we need for both practice and professional tattooing. Therefore, we need a complete tattoo machine with all its parts, needles of different types to create lines and shades, colors, flower holders, latex gloves. Finding all of these items individually if you are not aware of the shops selling tattoo products can seem daunting, but luckily, the internet always comes to our rescue. In fact, it is possible to buy starter kits for tattoo artists at affordable prices, perfect for practice, complete with everything you need to get started with the tools, learn how to assemble a machine, how to calibrate voltage, and so on.
[amazon_link asins='B074C9NX3Y,B07B3GKTY8,B07JMZRTJZ' template='ProductGrid' store='vse-o-tattoo-21′ marketplace='IT' link_id='26b61830-4831-4b76-8d5b-9ac1405e275d']
2. Find material for practice.
The choice of material for practice is a little personal. There are those who prefer citrus fruits, which have a skin-like surface and a complex shape, such as a knee or elbow. Others like to practice on banana or potato skins. Still others prefer to leave fruits and vegetables alone to choose synthetic leather for tattooists... Synthetic leather is a sheet of plastic material, similar in color to skin, on which you can practice tattooing at no extra cost. Amazon, for example, offers a 10-sheet synthetic leather tattoo kit for just € 12,49.
[amazon_link asins='B078G2MNPL,B0779815L4,B01FTIUU9I' template='ProductGrid' store='vse-o-tattoo-21′ marketplace='IT' link_id='4b36c3bf-bf84-429b-bdef-4557efab7645′]
3. Practice tattooing.
There are different schools of thought. There are those who say that practicing on yourself is necessary to become a tattoo artist, and those who say that practicing on yourself is a bad idea. Before getting a tattoo on your own skin, or even on a volunteer's skin, it is always best to practice on alternative materials, as we said earlier. It's true that leather is the best workout surface, but it's also true that tattoos are indelible and if done incorrectly, they can also cause irreversible damage to the skin. Therefore, if you decide to get a tattoo on yourself, make sure you have enough practice and feel comfortable using the machine.
4. Learn from the masters
A great way to learn is to look at others. So use the services of the great god Google to find blogs, videos and information on the most experienced tattoo artists. UAF YouTube in this case it will be your best friend, because here you can find videos that are filmed how a tattoo is done from a professional, step by step. For example, GetNowTATTOO is a tattoo artist's channel that shows how a tattoo is done up close, explains how to do it, and even gives some tips. But this is just one example, there are many others who share techniques learned over the years that can be an additional source of inspiration for a tattoo artist looking to learn.
Another extremely effective way learn to tattoo This is to follow the courses this article lists some very relevant ones.
[amazon_link asins='1784721778,B0012KWUSW,8416851964,3899559266,1576877698,8804679700′ template='ProductGrid' store='vse-o-tattoo-21′ marketplace='IT' link_id='755c35e0-ed7a-499a-858a-5208acd4722b']