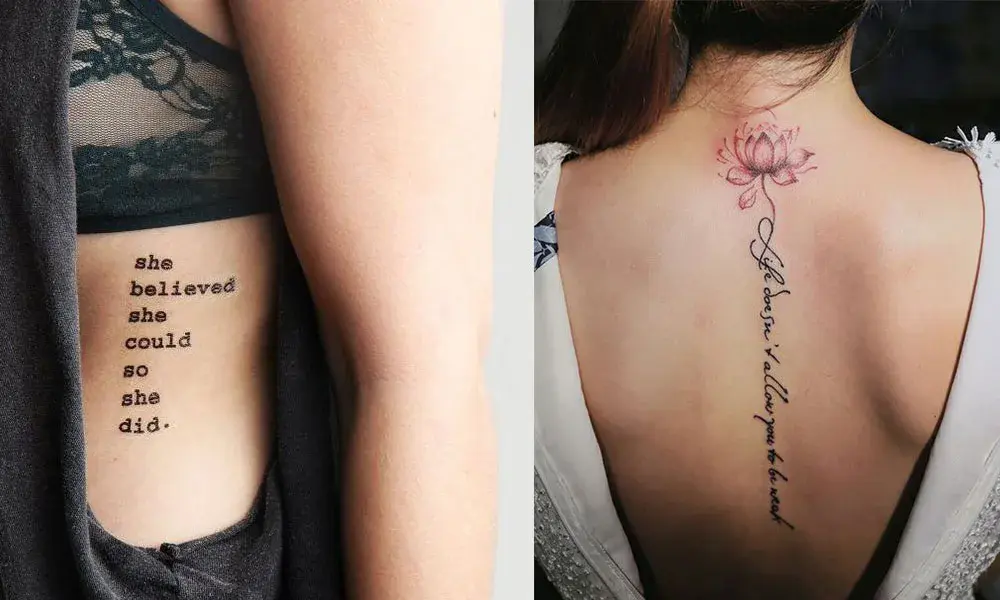 How to choose the right tattoo and never regret it!
In recent years, the percentage of people with at least one tattoo has grown significantly, especially in the 18-26 age group. Along with this growth, dictated by the fashion and customs clearance of tattoos, the percentage of "repentant" is also growing, that is, those who do not want to get a tattoo or use it. cover... You know, tattoos (even more than diamonds) are meant for always... So when you are thinking about beautifying your body permanently, it's a good idea to get enthusiastic and follow some helpful tips. choose the right tattoo and never regret iteven in old age!
1. Find a tattoo with meaning.
When a tattoo has a personal meaning associated with life and experience, it will be more difficult to get tired of it. It is clear that if the tattoo represents a moment or experience in our life, it is important that it is an event that we want to remember: seeing a tattoo associated with unpleasant memories on your body would be like inflicting a painful scar on yourself. In fact, it takes on an emotional value that is part of us. Obviously, no one forbids you to get tattooed, which is just beautiful, but the risk of getting bored after a while or after the fashion has passed is not far off!
It goes without saying that in order to find a meaningful tattoo, you also need to "look for" it. Do a lot of research and compare multiple sources to really understand the meaning of the tattoo you would like to get yourself.
2. Customize the tattoo to be original.
There are tattoos that have now become "clichés": the symbol of infinity, anchor, dream catchers, butterflies, and so on. Or star tattoos can cause epidemics, during which very similar tattoos are collected, to the point that some tattooists refuse to do them.
There is really nothing wrong with getting into a classic or celebrity tattoo that we love, it is important to be sure that in the future we will equally love designs that thousands of other people have.
Almost no one likes to feel approved or just like someone else, so finding a unique and personalized tattoo based on your personality, tastes and experiences is essential. Choose a tattoo that never tires us.
3. The rule "if you like it again in a year."
It may sound trivial, but it is a golden rule that often takes your doubts out of your mind. This is a valid method for any tattoo, but it is especially true for those tattoos that are purely decorative and have no specific meaning. After all, a tattoo doesn't have to mean anything, but it's important not to regret it once the magic of getting a new tattoo has passed.
Basically, once you have found a design or item that we would like to tattoo, you should put it aside and think about it for at least a year... If after this long period of time you are still in love with this idea, then it is very likely that this is the right tattoo!
4. Do a non-persistent test.
This tip is useful not only for making sure we really like the design, but also for decide which place is the best! Many sites offer the option to print the tattoo on special paper that reacts with hot water, just like the decals that were often used in the 90s. Ideally, print several versions with different sizes and run some tests in different body positions: this will make it easier to visualize yourself with the tattoo and see if we really like the design and placement!