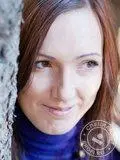 Victoria Timirgaleevna Horseman
Information

How often do you use cosmetics? Hardly anyone will be surprised by the fact that a well-groomed appearance not only improves mood, but also attracts the attention of others. And to look your best, it is very important to apply makeup correctly.

Makeup artist Victoria Konnik knows how to choose a color palette for each skin type, hide wrinkles and emphasize your natural beauty. With a professional make-up, you will look appropriate at a festive event, whether it be a corporate party or a wedding.

Victoria's second specialty is a hairdresser-stylist. It is hardly a secret for anyone that a new hairstyle can radically change a person's image. We owe this fact to representatives of one of the most creative professions - hairdressers. Konnik Victoria is a hair specialist. After completing basic training and gaining practice, she is able to fulfill the wishes of the client, whether it be micro-extensions or hot hair extensions. In the arsenal of every hairdresser, there are dozens of professional tricks that will allow you to achieve results even on unruly hair.

In addition, Konnik Victoria Timirgaleevna works as a tattoo artist, tattoo artist and offers services such as silk eyelash extensions, extensions correction and removal, acrylic and gel nail extensions, and art tattoos. Victoria will try to make you become her regular customer.

The area of ​​the specialist's work is Zheleznodorozhny (next to the Uralskaya metro station, Dynamo).

Victoria is pleased to provide services to residents of the city of Zheleznodorozhny.
Specialty

make-up artist, hairdresser, tattoo, permanent makeup
Specialization

departure, hot hair extension, correction and removal of nails, micro hair extension, hair extension, nail extension, acrylic nail extension, gel nail extension, eyelash extension,

silk eyelash extension, nails, wedding stylist, art tattoo
Education

TC BioTouch, tattoo (Yekaterinburg, 2013).

UrGMA, surgeon (2008).

Refresher courses

Author's course on eyelash extension (2003).

Author's course on hair extension (2003).

Author's course on tattooing (2013).
Experience and achievements

General practice

Private experience - since 2003.

Work experience - since 2003.
Area

Uralskaya, Dynamo, Railway

Show all
Price:

200 - 3000 rubles
Photos of works beauty specialist Victoria Timirgaleevna Konnik Reviews about beauty specialist Victoria Timirgaleevna Konnik